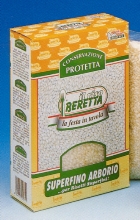 Beretta Rice - Kosher

The company philosophy of " IL RISO BERETTA" has always been to provide the ABSOLUTE QUALITY rice available.
Our years of experience and our dedication to the most modern technology helps us to husk and select only the grains of rice perfect for ripening and drying, while keeping all of the nutritional properties of the rice intact.In order to offer a superior product IL RISO BERETTA offers the packaging innovation of "ASSURED FRESHNESS".

This new method of packaging offers a triple protection . The cardboard box with a window shows the high quality of the product to the consumer. The technology used to place the rice in the strong cellophane bag provides the rice with the most gentle of environments in order to keep it fresh and complete.

When you open the bag, you will always find fresh whole grains of nutritious and delicious rice - always perfect for a very tasty RISOTTO.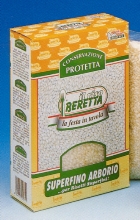 Arborio Rice - 1kg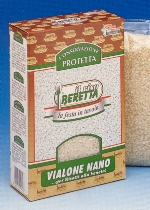 Vialone Rice - 1kg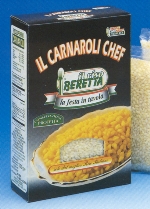 Carnaroli Rice - 1 kg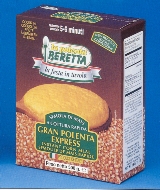 Gran Polenta - 500 gr