NEW TELEVISION COMMERCIALS ON OMNI TELEVISION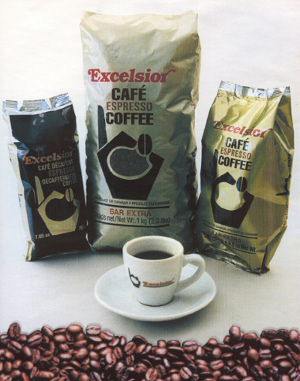 We know coffee.
In fact, we've been satisfying those who seek the perfect cup of coffee by providing them with Excelsior Coffee for 56 years!
Since 1953, the days and nights spent in endless cafes along College street in Toronto have been made more memorable because of the unique Excelsior Coffee blend. More than 50 years later, we haven't altered that rich and full taste that enables us to offer the finest cup of coffee found anywhere on the planet.
We're not only about coffee though; far from it! Excelsior Foods also imports a large variety of products of only the highest quality. Over the years, we've worked hard at establishing solid relationships only with companies that also recognize the importance of high quality.
We exclusively distribute a number of specialty products including Divella Pasta, Yoga Fruit Nectars, Pan Ducale Biscotti, Tina Biscuits and Holiday Items such as Festa Panettone. Please take the time to discover the range of products we offer to both create and enhance a wonderful culinary experience.
Located in Toronto, our products can be found and enjoyed across Canada at a growing number of specialty food retailers, grocery stores, and finer restaurants and cafes. Excelsior Coffee is now sipped and satisfies from coast to coast.
We are continually adding new products for our customers to enjoy but only once they meet the high standards associated with the Excelsior Foods name.